Electrician Budapest
Zoltán Kocsó (+36 70 545 0911) certified electrician, WITHOUT TRICKS and HIDDEN COSTS, non-stop 24/7 troubleshooter, day and night, on weekends, can solve problems within 1 hour, around the clock. I work mainly in Budapest and the surrounding settlements. I provide 0-24 quick service within 1 hour, fast troubleshooting! Electrician Budapest!
Apartment building, house troubleshooting, repair and maintenance. I can arrange you a comprehensive ELMÜ administration from the design to the network commissioning.
Electrician Budapest prices
IMPORTANT: our prices cover everything without tricks, NO HIDDEN COSTS!
Small repairs, troubleshooting, first hour: 7 980 HUF
Every additional half hour: 3 900 HUF
Weeke end, night, between 16:00 PM and 09:00 AM: normal fee + 50%
Commissioning of electric oven, water heater: 12 000 HUF
Total cost of an average (50 square meter) flat (material + wage): 500 000 HUF (custom needs can be negotiated)
All of our services are covered by our quality guarantee for perfect job!
Budapest registered electrician. Full-scale reconstruction of unmeasured network 2 + 3 years warranty!
I am specialized in quick troubleshooting, my colleagues mention me as one of the best experts in this subject matter.
Electrical technician Budapest
Statistically, the following figures show my statistics with regard to troubleshooting and fix power outage problems: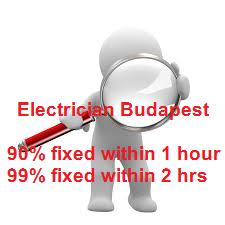 90% of the errors within 1 hour fixed
99% of the errors repaired within 2 hours.
If the service provider side failed, I can contact ELMÜ side, too! +36 70 545 0911.
People who know me can justify my professional expertise, please see the "References" section.
Certified Electrician Budapest – Main services
Without being exhaustive, some of my main services are listed below.
I would like to emphatically point out the following services:
Nonstop electrical installation, repair and troubleshooting, day and night, on weekends, 24 hours a day, within 1 hour!
Maintenance of power networks, fuse boxes, junction boxes, contactor, electronic components, electronic parts, circuit breaker, relay, AC power relay, UPS system
Nonstop availability and accessibility
Repair renewal and reconstruction of power circuits, replacement of electric parts, fault diagnostics, error detection, maintenance, preventive maintenance, power network retrofit
Free of charge advice
Personal contact, available at any time, 24 hours a day, seven days a week!
Speed, precision
In addition to the above, I undertake the following major activities:
Internet tethering and troubleshooting in Budapest, Internet deployment within Budapest
Budapest telephone installation, telephone installation, troubleshooting Budapest, Budapest telephone service.
Intercom Installation Budapest, Budapest repair intercom, intercom troubleshooting Budapest
Fast service around the clock Budapest
Replacement of old, outdated fuses in Budapest, fuse troubleshooting Budapest
Check fuse warranty Budapest
Electric utilities and residential customers
Complete network renovation, electrical installation and troubleshooting unmetered networks
Electrical problem handling in Budapest
24-hour emergency service

Certified electrician near me 24 hrs Budapest

English spealing electrician Budapest DIY not working
We offer 24-hour emergency service we are here to help you with all your emergency electrical needs we work around the clock.
Often experience may be to correct the problem when I go to a house, the owner had previously tried to resolve the problem but in many cases there is a lack of expert solutions, which can have serious consequences. I have collected a few examples of exemplary home "bricolage", which you can view in the "DIY" section.
It is important to mention that I undertake guarantee for my work! If you are looking for an electrician in Budapest, who always does a perfect job and has 6 months warranty, then you are at the right place. The only pre-condition is that the network meets these criteria.
When I am asked to build a new power network or renovate an existing one, integrate always the best price to performance ratio elements for any construction with the highest quality materials, and by doing all the wiring and network functionality I provide 10 years guarantee in case of intended use.
Call now if you are seeking an expert, reliable and hard working professional at a reasonable price, Zoltan Kocsó ("Spuri") electrician Budapest +36 70 545-0911!